Has anyone noticed the many faces and many nose jobs of Mark Dacascos, the Chairman of Iron Chef America?
Crying Freeman:
CLICK HERE IF IMAGE DISABLED
Notice the bridge is raised and the nose is overall narrow. The flesh around the nostrils seems glued to his face.
The Crow Stairway to Heaven: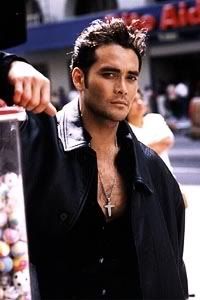 The nose is flatter, he's had the nostril span widened but overall the nose is still narrow. The nostrils appear to have been fixed and no longer sink into his face. (Notice the sunken in cheeks in all photos above)
Now compare to fall 2009 when he did Dancing with the Stars:
His nose job gives him a bit of a creepy look here, his nose looks as if it had been cracked open like a chicken carcass and flattened against his face and strangely his nostril span has almost doubled! (Notice here the apparent cheekbone implants he didn't have before and a somewhat longer chin). Also his nostril flesh looks once again glued against his face. Sad to say but Mark Dacascos nose job has taken him from rather handsome to looking like the kind of man you feel like hiding your children from. (Is it me or is there something weird going on with his lips too? Too much pink; lipstick or lips tatooed pink??)
This video goes further back, his entire face looks like it's been redone: (please CLICK below link, sorry I couldn't embed)
YouTube Video
YouTube - mark dacascos training part 1
Nice close up at 5:32 where you can see the difference: nose is slim, raised not flat, nostril span much narrower, sunken lower cheeks, no protruding cheekbone implants.
I don't know what is going on with his lower cheeks how they became much fuller? His ears appear to stick out back then (shown below he used to wear his hair long to hide them no doubt) and there's something strange going on with his forehead at the level of brow/eyes general area. Seems like the guy has had as much surgery as Heidi Montag, but done a little through the years so that the change is not too obvious.
Does anyone have any photos of him when he was younger? I couldn't find any safe for above, but I have a feeling he started off with yet a completely different face. I'm sorry to say and it's not my intention to offend anyone here, but as a huge fan of Bruce and Brandon Lee I find it rather creepy that this guy seems like he set up to steal Brandon's face after his death. When his the Crow series was canceled I guess he deemed it time to change his face again! All in all Mr. Mark Dacascos seems like a pretty vain guy but none of his procedures have done much so far as advancing his career; I'd say there's a good chance he keeps having his face sliced and diced (Alle Cuisine --sorry I had to go there!) until he hits the jackpot and part of me can't wait to see what else he gets done. It can only go downhill from there, Mark Dacascos is already looking old and rather plastic and if you catch my drift, rather Liberace-like IMHO.